30th ISTANBUL-TURKEY International Conference on Computer, Control and Communication Engineering (IIC4E-21) April 26-27, 2021 Istanbul (Turkey)
New Submissions are OPEN and paper/abstract/poster can be submitted before April 05, 2021
GENERAL INFORMATION
30th ISTANBUL-TURKEY International Conference on Computer, Control and Communication Engineering (IIC4E-21) scheduled on April 26-27, 2021 Istanbul (Turkey) aims to bring together leading academic scientists, researchers and scholars to exchange and share their experiences and research results about all aspects of Science, Engineering and Technology, and discuss the practical challenges encountered and the solutions adopted.
PUBLICATION
The International Refereed Conference Proceedings will be blind peer reviewed by two competent reviewers. The post conference proceedings will be submitted to be indexed in the Thomson Reuters, CiteSeerX, Google Books and Google Scholar for possible Indexing. The conference proceedings book with ISBN & CD and certificate of presentation will be distributed to the conference participants at the conference registration desk
SCOPUS Journal Publication is OPTIONAL: All registered papers can be published online in the SCOPUS Indexed Journal with additional charges.
All registered papers will be online at ISBN DOI Indexed Conference Proceedings OR the follwoing DOI-Crossref Indexed ISSN journals:
PRESENTATION OPTIONS
Oral Presentation at Conference Venue (in Physical Presence)
Poster Presentation at Conference Venue (in Physical Presence)
ONLINE (video presentation with Google Meet/WhatsApp/Skype)
OFFLINE (creating PowerPoint presentation without/with recorded voice for conference participants)
SCIENTIFIC AWARDS
The following Scientific Awards will be given to the studies which will be selected by the committee among the presented papers/posters presented in the Conference and applied for the award.
- Best ORAL Paper Awards (One from each oral Session)
- Best POSTER Presentation Award (One from each Poster Session)
- Best CONFERENCE PAPER Award
- The Researcher of the Year Award
- The Young Researcher of the Year Award
PAPER SUBMISSION
Full-length Papers, Short Papers, Posters and Abstracts are invited that address the themes and topics for the conference, including figures, tables and references of novel research material. Please Email the formatted paper according to the .doc template paper (in .doc or .docx format) at email id----info@iieng.org alongwith the name and city of the conference of the conference
Both the "oral presentation" and "Poster presentation" options are available Please mention your choice at the time of submission
Also mention that if you like to publish/print "Full paper (including the abstract)" OR "ONLY Abstract" OR "Any Other choice" in the Printed Proceedings.
The conference paper template and copyright form are available at: http://www.iieng.org/downloads.php and can be downloaded using following links:
REGISTRATION FEE
| Categories | Early Bird Conference Fee (In Euros)# | Late Round Fee (In Euros)# |
| --- | --- | --- |
| Authors (Student)* | 195 | 225 |
| Authors (UR-UAE Member)* | 195 | 225 |
| Authors (Non Student)* | 225 | 250 |
| Coauthor | 195 | 225 |
| Listeners | 400 | 500 |
| Author (Industry) | 250 | 300 |
| Additional Paper(s)** | 125 | 175 |
| Extra Proceeding | 50 | 75 |
| Extra Page(s) | 30 per additional Page | 40 per Addtional Page |
Note: If the author is NOT able to format the IICBE Provides the formatting facilty with Euros 30 to be paid by the author alongwith the FEE
*The arctle of maximum formatted pages 6 including Text, Figures, tables, Data, Annexures etc.
**In case the same person registers for 2 or more papers and in that case, certiifcate will be provided to the registered author for all registered papers and ONLY one set of proceedings will be provided
#VAT Extra
IMPORTANT DATES
Early Round
Late Round
Deadline of Full Paper /Abstract/Poster Submission
Feb. 10, 2021
April 05, 2021
Notification of Acceptance
Feb. 20, 2021
April 12, 2021
Author's Registration Deadline
Feb. 30, 2021
April 19, 2021
Final Paper Submission Deadline
Feb. 30, 2021
April 19, 2021
Conference Dates
April 26-27, 2021
CONFERENCE VENUE
Holiday Inn Istanbul City,
Address: Turgut Ozal Cad No 189, Topkapi, 34280, Turkey
Hotel Phone:+90 212 530 9900,
Hotel Email: alkim.bayir@hiistanbulcity.com.tr
(The accommodation charges are NOT included in the registration fee mention above)
TESTIMONIALS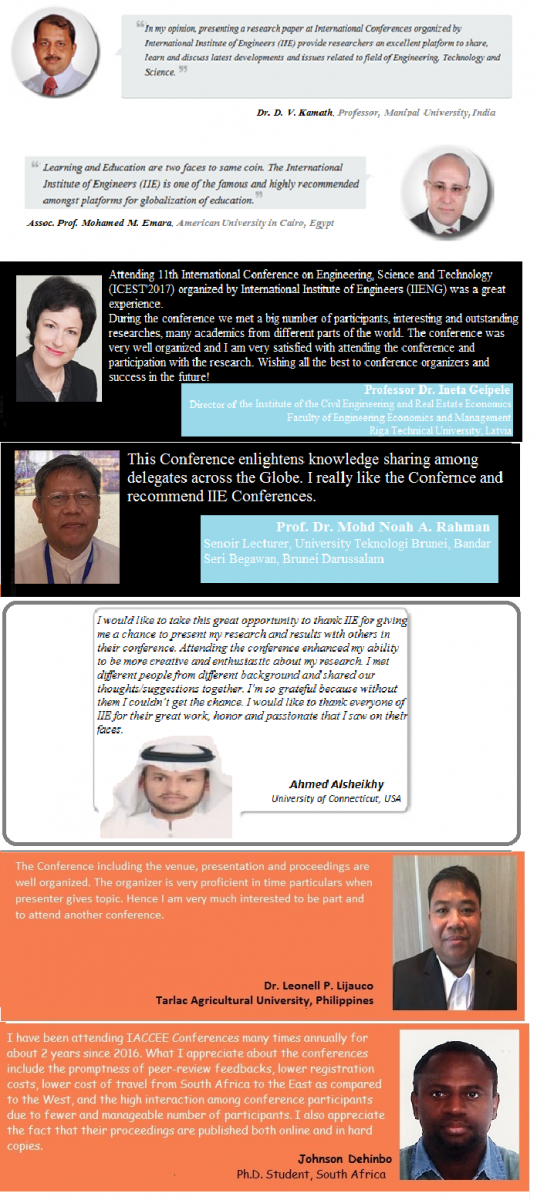 Early Round
Late Round
Deadline of Full Paper /Abstract/Poster Submission
Feb. 01, 2021
Mar. 10, 2021
Notification of Acceptance
Feb. 10, 2021
Mar. 20, 2021
Author's Registration Deadline
Feb. 20, 2021
Mar. 30, 2021
Final Paper Submission Deadline
Feb. 20, 2021
Mar. 30, 2021
Conference Dates
April 26-28, 2021